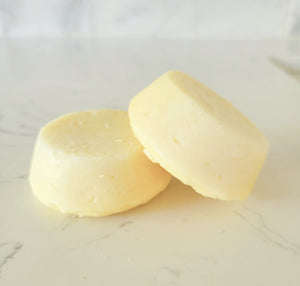 Orange Shampoo Bar
We love our solid shampoo bars for leaving us with silky, shiny,  healthy hair. 
To use:
Either glide shampoo bar directly over wet hair, or create a lather in your hands, then apply. Starting at scalp, massage through hair to the ends. Rinse out. 
Our bars last longest when allowed to dry between uses. We recommend storing them on a soap dish with drain holes.  (We find ours typically last 2-3 months for the shampoo and 3-4 months for the conditioner)
All of our products ship in biodegradable packages.
Ingredients:
Sodium coco sulfate (derived from coconut oil), sodium coco isethionate (derived from coconut oil), cocoa butter,  bethentrimonium methosulfate (derived from the colza plant) stearic acid,  orange oil,  fragrance