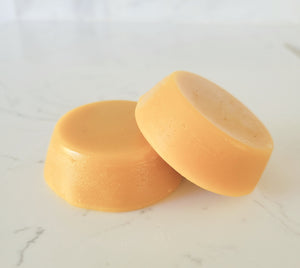 Orange Conditioner Bar
Our solid conditioner bars are hydrating and packed with goodness like Panthenol (vitamin B5) and Silk amino acids for silky, shiny princess hair. 
To use:
Start at the scalp with wet hair, and glide bar through hair to the ends. Add more water as needed until hair feels slick. Leave on for a few minutes, then rinse out excess. Conditioner can be reapplied ends and left in as a detailer, prior to combing hair. 
Our bars last longest when allowed to dry between uses. We recommend storing them on a soap dish with drain holes.  (We find ours typically last 2-3 months for the shampoo and 3-4 months for the conditioner)
All of our products ship in biodegradable packaging. 
Ingredients:
Behentrimonium methosulfate (derived from the colza plant) tucuma butter, cocoa butter, orange oil, organic coconut oil, cetyl alcohol,  silk amino acids, panthenol, hydrogenated olive oil